View samples
British Legacy
View samples
British Legacy II
coming soon:
British Legacy III
American Legacy
Period Styles
Victorian Edwardian
Art Nouveau
Art Deco
Arts & Crafts
Purchase CD
from Dragonfly Software
Historical Significance & Period Style Information
Arts & Crafts
Circa: 1890 - 1929

Art glass is one of the most important elements of design in the Arts and Crafts movement. It was used in windows, on light fixtures, and in panels on furniture. The focus of the Arts and Crafts movement was a rebellion against the Victorian low quality mass-produced machine made goods and a return to the use of high quality materials and hand-made excellence in art and decoration.

INFLUENCES:
Arts and Crafts design inspirations came from the Gothic style of the middle ages, the Orient, and from nature. Designs were simple and highly stylized. Motifs ranged from bold geometric designs to stylized motifs of roses, irises and animals.

Arts & Crafts, also known as the 'Craftsman' or 'Prairie' style, features simple linear, abstract designs and complements furniture made in the 'Mission' style.

In North America, the "Mission" style is often mistaken for Arts and Crafts but although similar they are not the same.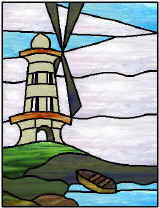 This pattern can be found in the
American Legacy Collection
- coming soon -