Link

Link

Link

Link

Link

Link

British Legacy
The beautiful and varied patterns in the Legacy Library are historically accurate representations of 19th and 20th century stained glass pattern design rendered directly from stained glass window designs of historic homes.
You'll find lots of diversity in motif, color, complexity and period styles. There is something for all skill levels and interests, from simple and elegant geometric designs, the classic tulips and roses of Europe, buds and Fleur-De-Lys, heraldic emblems a dramatic Galleon design from 1902, a Deco landscape, a highly detailed peacock with over 325 pieces, and a fantastic Chinese Dragon composed of as well as a number of holiday wreaths and candles.
Stained glass windows were very popular in English homes in the 1800's through the 1930's. Today, many European homes are currently being renovated or torn down. Many of these classic stained glass windows being stored in attics and basements or are laying around in salvage yards, the rest are being auctioned off around the world. Sadly, the facades of English homes will soon no longer be graced by these classic windows.
American Legacy
Coming Soon
All graphics and content are owned and copyrighted by Legacy Stained Glass Pattern Company. All rights reserved.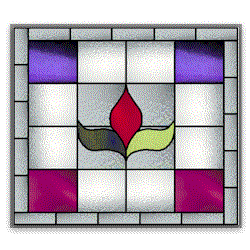 Sunflower Photo Caption

The patterns contained in the Legacy Library are destined to become an essential
resource for anyone wishing to recreate the beauty of 19th and 20th Century stained glass design..